Blind Item ...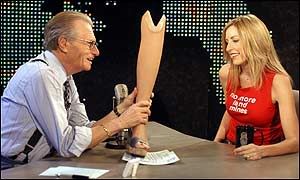 (image via
bbc
)
Here's one sick blind item from the clearly demented souls at
Popbitch
. Care to have a crack at this one?
"Which popstar, egged on by
Stella McCartney
, 'accidentally' stubbed her cigarette out on
Heather Mills
wooden foot at her and Macca's wedding?"
Madonna
?
Chrissy Hynde
? Both were in attendance at Sir Paul's nups. We heard that Stella
didn't really fancy
her stepmom, but hasn't Heather's prosthetic leg been through
enough
?