How To Throw a Trailer Trash Wedding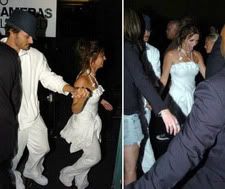 (images via the always excellent
Stereogum
)
"It's sad, oh there's been mornings out on the road without you/
Without your charms/
Ooh, my, my, my"
Lyrics to Journey's Lights, Britney Spears' Wedding Song
Ooh, my, my, my: So,
Britney Spears
did it again -- she got hitched. She's someone's old lady now. On yesterday's E! Emmy pre-red carpet show, the English-language challenged "media personality"
Teddy Casablancas
noted of the "'fixins" at the nups, "... chicken fingers and ribs at the wedding, and they went clubbing afterwards."
Charmed
, I'm sure; Aren't we all (Averted Gaze)? One hopes, though, they managed to wipe their fingers down with an efficient alcohol rub before "jetting" to "get their groove on." Greasy fingers and white and all. "The roof is on fire," to be sure, and an activity such as a wedding is "thirsty work." Holla.
The Daily News
says of the wedding in question:
" ... Britney's mom,
Lynne
, thought she was going to an engagement party Saturday night.
But the couple tied the knot instead in a five-minute ceremony at a friend's Studio City home in Los Angeles, with Britney sporting a new brunette hairdo, and later jamming to 1970s rock anthems."
What? No Earth Wind and Fire? No Motorhead? No
Daisy Dukes
for the bridesmaids? No customary synchronizing of the mullets? No "the-brides-water-has-broken!!" after the "I Do's?"? No justice of the peace in shortpants and a pack of Marlboro Reds peeking out of his pocket? No domestic violence calls at the reception? No warrants of arrest outstanding for the bridegroom? No vigorous tossing of the crushed
Wise potato chips
in lieu of rice? No Budweiser beerball at the reception? No "Achey-Breaky Heart"? What's a trailer wedding without the classics, the 'fixins, the
tradition.

Wait a minute (
The Corsair's eyes smile
) ... what's that music in the background:
Is that Freedom rock?! (
The Corsair
does some line dancing) Well, turn it up ...
"'He was crying, she was crying,' a source told Star magazine. 'It was beautiful.'"
Beautiful? As in -- O! Beautiful for
spacious skies
...? Anyway, what's tears at a trailer without a domestic violence call to the po-po, anyhoo ...
"The surprise wedding means that Spears, 22, is now stepmother to the two children Federline fathered with the actress
Shar Jackson
, his ex-girlfriend."
You know Shar, she of
the dance off
; a trailer wedding is nothing if not without family trees shaped like Christmas wreaths and exes and children popping out of the aqua acetylene welding of the trailer ...
"Britney looked luscious in a strapless white gown with a tiara and long veil and carried a bouquet of pink and white roses, witnesses said. Federline, 26, wore a custom-designed black tux."
Luscious is kind of a ...
moist
way to describe a bride, but, hey, it is the 21st century, I'm easy like Sunday morning:
"But no sooner had they swapped platinum wedding bands - plain for her, with diamonds for him - then Spears quickly changed into a velour sweatsuit for the supertacky afterparty at a Hollywood nightclub."
No word on whether or not she actually told guests, "y'all come back now, y'hear?"
"She ordered the entire wedding party to ditch their tuxedos and dresses for loungewear outfits, some of which were emblazoned with 'Pimp' and 'Pimp Daddy.'"
"... Spears had told pals she wanted a 'storybook wedding,' but opted for the tiny gathering at a friend's home in the decidedly unglamorous Studio City neighborhood."
But, you see, it was a storybook wedding; unfortunately the story was t
his
.
No word yet on
Jason "55 Hours of Love" Alexander
:
"
Lloyd Grove
reports (2nd item)
in the Daily News
:
"Britney's first husband, childhood friend Jason Alexander, insults (Britney's fiance Kevin) Federline in a radio interview on 'The Larry Elder Show' which debuts Monday.
"'Looks like a punk,' Alexander sniffs ..."
And, when asked if he still wants to married to Britney, Alexander says:
"'Now? After everything? No, I wouldn't,' he says. 'Nothing against her, but I wouldn't want to be a part of that family, man.'"