The Whippin' in Britain!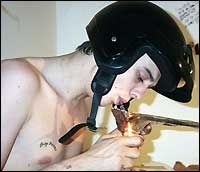 "In the corner to our left (huffing freebased cocaine; Nice),
Pete Doherty
..." (image via
liquidgeneration
)
Pow! And now, for the latest installment of news in the slow, smoldering car-wreck that is
Pete Doherty's
fucked up life. Sunday, two former "smack" addict rock stars got into a little slap and tickle in the UK (Averted Gaze). We'll call it "The Whippin' in Britain" According to
NME
:
"
Johnny Borrell
and
Pete Doherty
have been involved in a backstage bust-up at the CARLING WEEKEND: LEEDS FESTIVAL, NME.COM can reveal.
"And to our right, former smack addict,
Johnny Borrell
.." (image via
virgin
)
"Both bands played on the final night of the event yesterday (August 28) at Bramham Park in Leeds, with Razorlight on the main stage and Babyshambles appearing on the nearby NME / Radio 1 Stage.
"Witnesses claim that shortly before midnight Doherty went to Razorlight's dressing room, and headbutted the
Razorlight
singer."
Words fail Pete. We can only assume that by this clear breach of the laws of civility that Doherty couldn't scrounge up the cash for his "
medicinal
." It gets worse. Someone, in this next installment, kisses the dressing-room floor:
"A festival source told NME.COM: 'We've been told that
Pete Doherty
did in fact have a disagreement with Razorlight. Rumour is that Doherty walked into the band's dressing room last night after both bands had played and in an unprovoked attack headbutted
Johnny Borrell
. Johnny put Doherty on the floor and left the dressing room, at which point festival security escorted Doherty from the dressing room and back to his bus.'"
A happy ending. Publicity for
Razorlight
. And Pete gets to catch up on some much-needed sleep (
involuntarily
, of course). More
here
.