Media-Whore D'Oeuvres
"For the past five years, in the bastions of civilized Europe, the far right has been resurgent. Extreme right-wing political parties have scored unprecedented electoral success in a number of countries, including Austria, France, the Netherlands, and Sweden. Far-right street movements of disgruntled young men, barely seen for a generation, are appearing in greater numbers in busy Strassen, plazas, and boulevards. Until Friday, governments and the security services viewed this as a worrying trend, but one that could be contained. With the stunning, tragic attacks in Norway, that has now changed. Intelligence agencies, concerned more with al Qaeda for a decade, are suddenly alert to a new and deadly threat. The relationship between ascendant far-right extremism and political violence is suddenly a top political and security concern." (
ForeignPolicy
)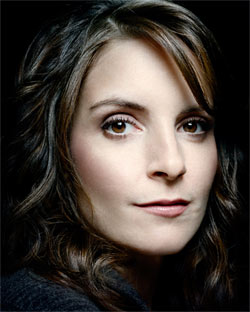 "In an infamous 2007
Vanity Fair column
,
Christopher Hitchens
asked his readers why women aren't funny. 'Please do not pretend not to know what I am talking about,' he chided. Comedian
Tina Fey
doesn't have to pretend. In the four years since Hitchens accused the fairer sex of also being the unfunny sex, Fey has won six Emmy awards (she has seven total), two Golden Globes, and four Writers Guild of America awards. Her success is proof positive, for anyone who needed it, that women can be as funny, or funnier, than their male counterparts. 'It is an impressively arrogant move to conclude that just because you don't like something, it is empirically not good,' argues Fey, responding to Hitchens' essay in her best-selling memoir Bossypants. 'I don't like Chinese food, but I don't write articles trying to prove it doesn't exist.' With every acerbic episode of 30 Rock, every impromptu one-liner, and every self-deprecating remark, Fey is reshaping the way both genders see female comedians." (
Slate
)
"House websites and telephone lines are getting jammed one day after
President Obama
asked voters to call their lawmakers. Outside callers could expect to get a busy signal when contacting numbers on Capitol Hill, according to the House Call Center. 'Due to the high volume of external calls, House telephone circuits serving 202-225-XXXX phone numbers are near capacity resulting in outside callers occasionally getting busy signals,' the Call Center said in an email to system administrators on Tuesday morning. 'Outbound calls are unaffected,' the email read. Obama on Monday urged Americans to contact their legislators to voice support for a debt-ceiling increase agreement. Since his speech, a number of lawmakers' websites have also gone down for some time, and congressional offices have reported unusually high call traffic. The websites for House Speaker
John Boehner
(R-Ohio), Rep.
Michele Bachmann
(R-Minn.) and Majority Whip
Kevin McCarthy
(R-Calif.) all reportedly showed a 'server is too busy' message for some time after Obama's speech." (
TheHill
)
"Seventeen months ago, STRATFOR described how the future of Europe was bound to the decision-making processes in Germany. Throughout the post-World War II era, other European countries treated Germany as a feeding trough, bleeding the country for resources (primarily financial) in order to smooth over the rougher portions of their systems. Considering the carnage wrought in World War II, most Europeans — and even many Germans — considered this perfectly reasonable right up to the current decade. Germany dutifully followed the orders of the others, most notably the French, and wrote check after check to underwrite European solidarity. However, with the end of the Cold War and German reunification, the Germans began to
stand up for themselves
once again. Europe's contemporary financial crisis can be as complicated as one wants to make it, but strip away all the talk of bonds, defaults and credit-default swaps and the core of the matter consists of these three points: (1) Europe cannot function as a unified entity unless someone is in control. (2) At present, Germany is the only country with a large enough economy and population to achieve that control. (3) Being in control comes with a cost: It requires deep and ongoing financial support for the European Union's weaker members." (
STRATFOR
)
"
Linda Christian
, an actress and one time wife of actor
Tyrone Power
, died on Friday at the age of 87. Linda became world famous in 1949 when she married Tyrone Power then one of Hollywood's biggest box office stars right up there with
Clark Gable
,
Gary Cooper
and
Fred Astaire
. Power had been married before to another foreign-born actress
Panatela
although they had been separated for some time by the late '40s. In 1947 he made a film – shot mainly in Mexico – "Captain from Castile" with
Jean Peters
(later married to
Howard Hughes
) and
Cesar Romero.
Known in his circle to be bisexual, Power began an affair with Romero during the filming. He was also having an affair at the time with
Lana Turner
– also a major box office star at MGM – who later recalled him as the 'love of (her) life' ...After cinematography of 'Castile' was completed, Power and Romero went off on a 'publicity tour' of South America and then around the world together ... The lovers trip, however, was interrupted by the beautiful Dutch/Mexican actress Linda Christian ...Dutch on her father's side, Mexican on her mother's, she grew up all over the world (father was a petroleum engineer) and was fluent in French, German, Spanish, Italian and English. A journalist described her as 'a little like a wild mountain lion up a tree. Her bright green eyes are far apart and when she smiles she looks as though she'd bite.' She also had a reputation (and most complimentary) for being very good in bed. It was said that it was her sexuality that lured Tyrone Power back over to her side of the fence. His main problem, as a friend of mine who knew him once told me, was that 'everybody was in love with Tyrone Power and he was so nice he tried to accommodate them all.'" (
NYSocialDiary
)
"20th Century Fox is closing a deal for screen rights to the oral history
ESPN: Those Guys Have All The Fun
. The studio will develop a feature about the formation of the 24-hour sports network. The pic will be produced by
Michael De Luca
, Trigger Street's
Dana Brunetti
and
Julie Yorn
. The book by
James Andrew Miller
and
Tom Shales
follows a format similar to
Live From New York
, the oral history they wrote about
Saturday Night Live
. Here, they use the voices of past and present ESPN personalities and producers to tell the story of how a father and son maxed out their credit cards to scrape together the cash to reserve a satellite transponder so they could show sporting events nonstop on a 24-hour station. The book is a gossipy journey about how that venture turned from a 1970s joke that started with broadcasts of Australian rules football and rodeo, to a dominant brand in the sporting world that broadcast pro football and baseball games and become arguably the most profitable cable network ever created." (
Deadline
)
"
Howard (Stern)
said
Crystal Harris
was going to marry
Hugh Hefner
and she's only 25. Hefner is 85. Howard said that she backed out at the last minute. Howard had Crystal come in and said that Hef seems to have a type. He said she looks like that type. He asked if she went through a bunch of changes for Hef. She said she already had the blonde hair and the boobs so she didn't have to change that up. Howard asked if Crystal if she's still part of the organization. She said she is and she's visited him a few times since the break up. Howard asked how she got involved in that whole world. Crystal said she had submitted a picture to get into a mansion party. She said she was a student and she hadn't done any stripping or anything. Robin asked if Hef spotted her. Crystal said she saw him and she waved to him and he invited her in. She said they talked and she told him what she does and she ended up moving in 2 weeks later ... She said that he tries not to take Viagra anymore because he lost his hearing from taking it." (
Marskfriggin
)