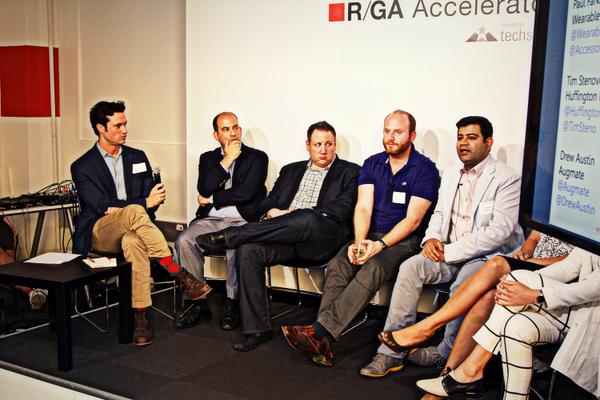 My friend
Paul Farkas
hosted an R/GA Techstars event for Wearable Wednesday, a panel and cocktail party for thought leaders and fashionistas in the wearable technology space.
Tim Stenovek,
technology reporter of
The Huffington Post
was the moderator, asking sharp, insightful questions of the panel. And the panel:
Puneet Mehta
,
Co-Founder / CEO
@MobileROI
and
@MyCityWay
, Paul Farkas,
Founder/Organizer,
Wearable Wednesday NY,
Drew Austin
, co founder of Augmate,
Linda Drabik
of the Internet of Things, and the saucy, brilliant
Billie Whitehouse
(every wearable tech panel should have the funny Billie Whitehouse, who is an actual designer as well as entrepreneur)
The subjects of the panel and the Q & A afterwards included: Wearable 2.0 (Where do we go from here?), Deasign and Function in Wearables, Privacy (a major concern), and the actual wearable design process, among other topics.
Of course, the networking afterwards was amazing. Among those dazzling spotted:
Kimmie Smith, David Barish and Adina Darr
. And thank the Lord, on a hot summer night, for Rekorderlig hard cider cocktails.