Illustration by Darrow.
"It is time to roll up the red carpet, return it to the factory showroom, and let famous faces attached to famous bodies walk among us as free people, not as fashion perps and exotic pets—clickbait snack meats. 'More will mean worse,' the novelist Kingsley Amis prophetically grumbled, and the red-carpet procession—once such a stately ritual—has stretched into a forced march, an endless series of campaign stops for stars striking poses and beaming smiles unnatural for any normal being, putting a strain on their intergalactic alloys. When the red-carpet ceremony was limited to gala occasions—lavish premieres, the Academy Awards (its red carpet was introduced in 1961, but it wasn't until the Oscars were telecast in color, in 1966, that it became synonymous with that night of nights), the opening of the Cannes Film Festival, a meet-and-greet with
Queen Elizabeth
and hubby Phil—it retained a sovereign glamour, a special hullabaloo. These days the red carpet has mechanized into a treadmill for a marathon awards season that stretches through the winter months, from the Golden Globes to the Screen Actors Guild Awards to the ACE Eddie Awards to the BAFTA Film Awards to the big finale, with the slack in the remainder of the year taken up by the Emmys; the Grammys; the Critics' Choice Television Awards; the MTV Movie Awards; the Academy of Country Music Awards; the SXSW Music, Film, and Interactive Conference & Festival; Comic Con; the ESPYs; the AmFAR Inspiration Gala; the AFI Lifetime Achievement Award; the White House Correspondents' Association Dinner; the Nickelodeon Kids' Choice Awards; the Kennedy Center Honors; the Indy 500 race; car-wash openings; papal visits; and random ribbon cuttings. It has altered our expectations of stardom, added a new imperative. It's not enough for an actor to deliver the goods on-screen or onstage, or for a musician to scale heaven in the recording studio or the concert arena. They must now aspire to be runway-sophisticated: turned-out, fashion-savvy, smartly accessorized, majestically moussed, manicured, pedicured, hickory-smoked, poised, and good sports, discreetly chewing their Nicorette gum without chomping like camels. Not everyone plays along." (
James Wolcott
)
"Recently,
Tavi Gevinson
– editor-in-chief of
Rookie
magazine, budding Broadway star and possibly the most influential 18-year-old in America – went to her first and last high school rager. Earlier that day, she'd graduated from Oak Park and River Forest High in suburban Chicago, tromping around the football field in the blazing heat. In terms of doing the classic high school party thing, she thought, it was now or never. 'It was at this guy's house,' she says, 'and I was like, 'Oh, you know what makes social anxiety better is if you just keep drinking.'' Which she did until things got messy ('There was vomit'), though not too messy ('I didn't try to seduce anyone'), after which Gevinson made her way home, where her mom helped her into bed: 'In the morning she gave me a flower and explained why drinking is extremely dangerous and why not to mix stuff and to eat first and to not do it until I'm 21. Then my dad came in, and they both laughed at me.' If Gevinson has failed to indulge in such iconic teenage pastimes to date, that's thanks to her many pressing duties as our culture's Teenager Par Excellence. Gevinson's role as universal expert on all things teenage has, somewhat ironically, left her little time for iconic teenage experiences like this one. At 11, she started Style Rookie, a blog that garnered the attention of fashionistas the world over with its pictures of a tiny, unsmiling Gevinson, standing in a suburban backyard and wearing the most fantastical of garments. Soon she was flying to Paris for Fashion Week, meeting
Karl Lagerfeld
and
Anna Wintour
. Sporting a dyed silver-blue bob, thick glasses and Iris Apfel-inspired outré-granny chic ('People talked about how when you're a woman of a certain age you stop caring about certain things, and I was like, 'If I can try that now I will be ahead of the curve'), she became a sort of high-fashion mascot, half prodigy, half pet.
And then, just like that, Gevinson decided to leave these childish things behind." (
RollingStone
)
Lauren Bacall, Liz, Carroll Petrie all making up to the very rich Milton Petrie, who is not amused. Circa 1980 at the Waldorf.
"
TIMING
is everything! — as the saying goes. Only this week I wrote of how I was going with my friend
Robert Pounder
over to the Dakota to see Lauren (Betty) Bacall before her coming September 16th birthday when she'd have been 90. (Miss Bacall didn't particularly relish becoming 90 and removed herself from the race.) So, my timing was bad and I didn't get to see her one last time. But my memories of 'Miss Bacall' — as I usually fancifully referred to her — are full to bursting. We had been through a lot of celebrity incidents together ... back to when she didn't speak to me, then she did, she couldn't decide, then she did, and so forth. Actually, we became good friends just as I became friends with her son,
Stephen Bogart.
And she and I often got together with our pal
Phyllis Newman. EVENTUALLY
we became close and she visited me in the Connecticut countryside when she went to see
Katharine Hepburn
at Fenwick. (Her tenderness for the great Kate went way back to when she'd first been wed to Bogart and he and Kate were making 'The African Queen.' Betty's hidden sentimentality was one of the nicest things about her.) She often talked to me about how proud she was of her three children ... of her struggles with husband
Jason Robards
and his alcoholism ... of the tortured days when
Bogey
was dying of throat cancer ... of her disillusionment when
Frank Sinatra
took offense at a gossip item and called off their engagement. She was philosophical in 1997 when she didn't win the Oscar for 'best supporting actress' costarring with
Barbra Streisand
in 'The Mirror Has Two Faces.' But I wasn't philosophical. I thought she should have won. And isn't it interesting that after all Bacall's work with powerful male directors, it took a woman, Barbra Streisand, to, bring her an Oscar nomination." (
NYSD
)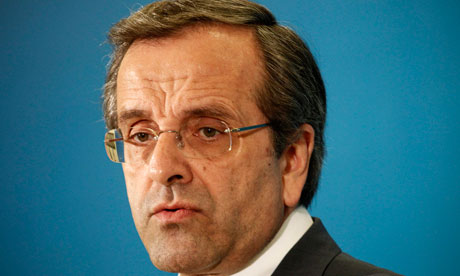 "This is what the EU scum have done to us. Forced us to sell the few assets nature gave us instead of oil and gas, and the oily ones were the first to grab them. The ultimate touchy-feely accolade of our times—a big sloppy bear hug à la Clinton or Blair—almost made me sick last week, as practiced by the Greek prime minister hugging the grotesque
Jean-Claude Juncker.
What is it with these phonies? Can't anyone shake hands anymore? And while I'm on the subject,
Antonis Samaras
, the PM, I met only once, around 35 to 40 years ago. He had just returned from Amherst or Harvard and had entered the Greek nationals in tennis. I played him in the first round, saw that he could more or less hit the ball, and beat him 6-0, 6-0. There were no refs in the early rounds. While shaking hands he asked me if he could change the score to something more respectable. I said sure, I never liked giving anyone two bagels. But it shows the kind of shifty character that he is, and he's known for having bitten every helping hand. While these two sons of bitches were hugging each other for a photo opportunity, the straitjacket of the euro continued to do its stuff. Unemployment is still at a record 27 percent, and for those under 25, around a staggering 55 percent. Our debt is about 170 percent of our GDP, a gap bigger than Italy's and topped only by Japan's, which goes to show we are good at something after all. At bullshitting the people, that's for sure." (
Taki
)
"The Plaza's Eloise may have to start wearing a burqa over her trademark red hair ribbon. The
Sultan of Brunei
— infamous for imposing sharia law,
which calls for death by stoning of gays and adulterers
— is first choice to buy the landmark Manhattan hotel. As part of an estimated $2.2 billion deal, the sultan would also purchase downtown's Dream Hotel and London's Grosvenor House Hotel, all currently on the selling block by owner Subrata Roy, a jailed Indian industrialist, according to the Times of London.Roy remains in a New Delhi jail on contempt of court charges and needs the money to cover his bail. The sultan would not have a say in the day-to-day operation of the hotels but would be the controlling owner in partnership with two investors who already have stakes in the properties, Hampshire Hotels and Saudi
Prince Alwaleed
, said Manhattan-based hotel analyst Sean Hennessey, CEO of Lodging Investment Advisors." (
P6)
"It's a battle of Al vs. Al. According to a court filing
unearthed
by Bloomberg,
Al Gore
is suing Al Jazeera America for refusing to turn over millions of dollars it promised to pay following the
acquisition
of Current Media back in January 2013. Gore and his Current co-founder,
Joel Hyatt,
claim
Al Jazeera America 'wants to give itself a discount on the purchase price that was agreed to nearly two years ago.'" (
NYMag)