"
Sen. Tom Harkin
on Sunday said
George H.W. Bush
and
Bill Clinton
were the two best presidents he's worked with and listed George W. Bush and
Jimmy Carter
as the more difficult presidents he's seen in the White House. '[Bush] was just good to work with and then Bill Clinton; 'We had a great relationship and, you know, Bill Clinton only had a Democratic Congress for two years. He had a Republican Congress from then on' and he had the impeachment and all that. But even in the face of that, we had one of the best economic growths we've ever had in this country,' Harkin said on CNN's 'State of the Union.' George H.W. Bush signed Harkin's Americans with Disabilities act into law. And Harkin said he had 'great esteem' for his work in the White House.The Iowa Democrat did not elaborate on why George W. Bush and Carter were his least favorite presidents." (
Politico
)
"Ibiza—This island is the Spanish equivalent of the Greek sex rock of Mykonos, except its waters are murkier, its nightclubs and restaurants far more expensive, but its hookers first class and not to be compared to anything selling itself in Greece ...No, I did not indulge, but I invited a few girls very late at night to come on board for a drink, and once done with their libations they offered sex. Now, sex is a hard subject to deal with in print, and I haven't ever gone into details about it—it's simply not my way—and I plan to keep it so. Perhaps if I had the comic talent of
Jeremy Clarke
, who recently wrote 900 words about how he held back a mob of Spaniards trying to burst into a public lavatory where his girl was chopping up coke while he was servicing her, then maybe. But my style is more suited to fulminating against social wrongs and crap such as PC, hence sex remains unmentionable. Which doesn't mean that a young Spanish hooker who stripped to the waist and offered me a condom to help me make up my mind wasn't a real beauty. The trouble was the day was just breaking, both
Michael Mailer
and I were dead drunk, the crew was casting anxious stares as the girls were freely circulating in and out of cabins, and the big race was about to start. So sex took a backseat for once, and off we went with high hopes for victory, as during the practices my boat was the fastest by far ... One thing that puzzled me was my friend Michael Mailer's travel plans. He flew out from Spokane, Washington State, where he was scouting locations—Michael is the producer of the greatest film ever made,
Seduced and Abandoned
, starring
Taki, Alec Baldwin, Ryan Gosling
, and some lesser stars—via Los Angeles, New York, Berlin, then Ibiza. Now, I was never any good in geography, but going east in order to go west simply doesn't make sense. Had Michael been drinking? My lips are sealed, but somehow his compass went all wrong. He flew for 20-some-odd hours to spend 48 hours without sleep on board my boat, to then fly another 20 hours back. He must be a travel agent's dream, but I'm seriously worried about his health." (
Taki
)
"After amassing a private collection of African-American Art over four decades,
Bill Cosby
and his wife
Camille
plan to showcase their holdings for the first time in an exhibition planned at the Smithsonian Institution.The Smithsonian's National Museum of African Art announced Monday that the entire Cosby collection will go on view in November in a unique exhibit juxtaposing African-American art with African art." (
P6
)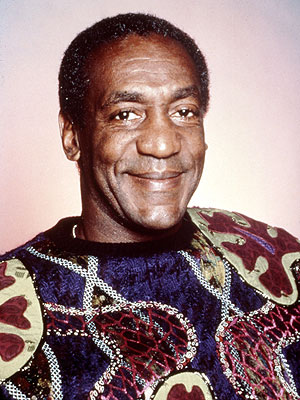 "(
Bill) Cosby's
comedy is a celebration of the inevitable. The birth of a baby, the rebellion of a teen-ager, the irritation of a spouse: these are things to be endured and, if at all possible, enjoyed. But with the "pound cake" affair Cosby was calling for change, for a black cultural revolution, and in the process he inadvertently proved just how little influence he had, even—or especially—among African-Americans. For many who had been following his career, the dream of Cosby as the nation's wise paterfamilias began to fade in 1989, when he gave a startling interview to the Los Angeles
Times
in which he discussed his daughter
Erinn
, then twenty-three, whose time at a drug-rehabilitation clinic had recently been uncovered by the
National Enquirer
. The news of her struggles was surely less damaging than Cosby's intemperate reaction: he described her as 'really very selfish,' adding that she 'uses her boyfriends' and that she had the emotional maturity of an eleven-year-old.
According to Whitaker, Cosby reconciled with Erinn only after a tragedy: the death, in 1997, of his son
Ennis
, the model for Theo, who was murdered next to a California freeway by an eighteen-year-old immigrant from Ukraine. The same day that Ennis was killed, Cosby received a blackmail threat, via fax, from a young woman named
Autumn Jackson
, who claimed to be his daughter from an extramarital affair. Cosby denied paternity, and she was eventually convicted of conspiracy, extortion, and crossing a state line to commit a crime. But it was true that Cosby had had an affair with her mother, and the case forced him to acknowledge his infidelity. Whitaker acknowledges it, too, though he is scarcely more enthusiastic than his subject. He mentions Cosby's 'roving eye' twice and tells a brief story about an unnamed 'longtime girlfriend.' To mark the demise of their relationship, Cosby invited her on what must have been a very strange goodbye date with him and her own mother. Stories like these can't help but inform the way we hear Cosby's routines depicting marriage as an ongoing project to train and socialize husbands. He once said that he knew he was getting older when he was no longer tempted by the prospect of 'sex with a young, beautiful girl who has plenty of energy.' But it's not clear that age has rendered him entirely immune to such temptations. One night in 2003, filling in for
David Letterman
, Cosby conducted a rather unsettling interview with
Sofía Vergara
, the Colombian actress, leaning in to her and murmuring inane questions in a pseudo-Spanish accent."
(NewYorker
)
"
THIRTEEN YEARS
ago I watched the historic and horrible events of 9/11 in real time from the windows of my 26th floor apartment in New York's Murray Hill. I had a cinematically dramatic and unencumbered view of the Twin Towers as they burned and then fell.
Although it seemed inappropriate to consider show biz and gossip and trivia, I did continue to write — although my first post 9/11 column began, 'To Hell With Gossip!'
Then, on September 21st, I wrote the syndicated newspaper column that appears below, for
Newsday
and the
New York Post.
The latter's editor refused to print this column, saying it was "maudlin and sentimental." He was probably correct, but my syndicate and all my other sources did print it and the
Reader's Digest
later immortalized it.
Having marked another 9/11 anniversary last week, I thought I'd run that column past you again." (Liz Smith/NYSD)