"Michael's restaurant on West 55th Street in Manhattan turns 25 this week. That's a long time for a New York restaurant to remain not only in business, but largely unchanged and with much the same clientele. It's a long time, too, for a media outlet to remain fixed and dominant in its market. And Michael's is as much in the media business as in the restaurant business. In these 25 years, just about everything in media has been upended, but not Michael's. It's fortunate to provide a particular product of importance to media people: lunch. But, like most media trends and styles, you'd think other restaurants would have come along and offered a newer, cooler, more competitive solution to lunch. Many have tried, but none rival Michael's for its hold on where top-tier, or would be top-tier, television, book, magazine, advertising and PR people, associated celebrities, mogul-class types, anchormen and women, and prominent bylines regularly have their lunch. (Recently, the very familiar face I couldn't quite place turned out to be
Oprah
.) Some years ago, after a tiff, the substance of which I can't remember, and sensing that the habits and customs of the media were in radical transition, as well as eager to get with the new program, I stopped going to Michael's. Just swore it off cold, resigned my permanent table. I wandered around to the new places with energetic reputations, some adequate, but none just right. And, anyway, the whole idea of lunch — the two-martini lunch albeit without the martinis — seemed lame and old. Digital people, after all, didn't appear to have lunch or, if so, not salubrious ones. Then, several years having passed, and at the invitation of someone of a standing that made it inopportune to aggressively negotiate venues, I relented and returned to West 55th Street. And everybody was still there — and at their proper table. My entire career still in one place. Time, Inc. people; network people; Hearst people; Simon &; Schuster; Random House; HarperCollins. I knew more people in the room at Michael's than I knew in my college dining room. What, I wondered, could all this mean, everybody preserved in amber, this alternative reality unmindful of media's death? Indeed, this was so startling, and so inviting and reassuring, that after a few more visits back, I started to revise my feelings about the media business as a whole. It wasn't obsolete, it was indomitable." (
USAToday
)
"Roll Call's final ranking of the most vulnerable senators doesn't vary much
from previous versions
— the result of an unfavorable national climate for Democrats that has failed to improve. On the eve of the midterm elections, Senate Democrats are
staring down a hole
dug by
President Barack Obama's
disapproval ratings
and an unforgiving map packed with red states. Retirements by a quartet of senators in Republican-leaning or swing states didn't help, but the seats of at least four incumbents seeking re-election aren't on much stronger ground. It's the reality of what could end up being a
dreadful cycle for Democrats
. Still, party strategists remain cautiously optimistic they can hold on to a few endangered seats, possibly even
pick up a GOP open seat in Georgia
and save the majority. Republicans need a net gain of six seats. The ultimate installment of Roll Call's 10 most vulnerable senators list features eight Democrats and two Republicans, with Democrats in the top four slots. There is a reasonable argument for any of these incumbents to be re-elected, and, indeed, there may be no more than four senators defeated. Six senators lost in the wave year of 2006, but only seven have lost in the three general elections since. Here's who may not be coming back this time..."
(RollCall
)
| | |
| --- | --- |
| John Studzinski and Bette Midler. | Martin von Haselberg and Bette Midler. |
"
Friday night, Halloween took over the city.
There were hundred and probably even thousands of parties all over town and even fireworks in the park. People were out. Taxis were not easy to find. And there was rain off and on.
Bette Midler
hosted her annual New York Restoration Project's Gala. Number 19.
Judy Gold
was the official hostess. The theme was
Fellini Hulaweeni
(can't you just hear her tossing that out during a meeting planning the party?) There was a costume contest (judged by
Michael Kors
) and a performance by
Earth Wind & Fire.
And most importantly the guests, many of whom were costumed, some even brilliantly, were the main attraction. I think
Martin von Haselburg,
Midler's husband, shudda won the prize for his 'sunny' brilliance. However, I wasn't there, but Liz Smith was (she goes every year) and she'll tell you about it in her column this week. Meanwhile, here are some of
Mia McDonald
's photos of guests and their fantasy Halloween antics. This year's Gala honored long-time environmental activists
Shelly and Tony Malkin
with the
Green God Award
and
Sarah Nash
with the
Wind Beneath My Wings Leadership Award.
Co-Chairs for the evening were
Ellen and Steven Corwin, Ellen and Dr. Richard Levine, Kathy and Ben Needell
and
John J. Studsinski CBE." (NYSD)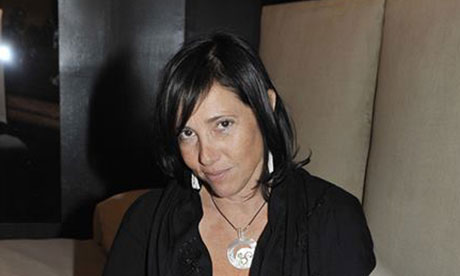 "
Four years ago, slumped on a sofa in a cottage in Southampton, NY I was watching the weatherman on television. He was flailing in front of a map of the east coast of America. He was advising in the manner of a preacher predicting Armageddon that we were in for 'the storm of the century!' He advised the swift purchase of a month's worth of supplies. 'Buy a shovel,' he urged with enthusiasm, 'Buy flashlights and batteries!' 'Sod off!' I replied to the television,
...
'I'm buying a ticket to Florida!'
And I did, and ever since that auspicious moment I've been a Key West resident resplendent in ample sunshine and yearly access to the warm ocean in which to float and gloat about my chilly northern past. By chance, for a weekend, I find myself returned to the end of Long Island, to stay with great old friends. I am reminded of the intangible beauty of this place, the playful light, the romance of ochre leaves and open fields. Indoors there are floor to ceiling fireplaces of ornately carved stonework with raucous spluttering fires to stand beside and watch the world outside. Outside is a gorgeous display of wind blown trees and driving sleet and while evocative I have no desire to don five thousand layers and venture out. In fact, I've yet to step a toe outdoors since arriving Friday.
No, instead I fill yet another deep hot bath and submerge and make-believe I'm at the beach. Interrupting my self delusion are the sounds of windowpanes whimpering against the forces of mother nature, doors popping open from suction only to slam closed on themselves, for no one, or maybe ghosts." (
Christina Oxenberg
)