"Syria's entire chemical weapons stockpile has been removed, the international watchdog overseeing its destruction announced Monday. The Organization for the Prohibition of Chemical Weapon's (OPCW) director general,
Ahmet Uzumcu
, said the final eight percent of the 1,300-ton chemical arsenal was removed from Syria. 'A major landmark in this mission has been reached today,' Uzumcu said. 'The last of the remaining chemicals identified for removal from Syria were loaded this afternoon aboard the Danish ship Ark Futura. The ship made its last call at the port of Latakia in what has been a long and patient campaign in support of this international endeavour.' Uzumcu noted that the entire operation took nine months. Syria agreed to relinquish its program after Russia proposed the deal, which alleviated the threat of a U.S. military strike in September. The chemical weapons will now be delivered to a facility on board the U.S. vessel Cape Ray where they will be destroyed. Other weapons will be sent to Finland, Germany, the United Kingdom and other facilities in the U.S. " (
TheHill
)
"
Rand Paul
is opening a new frontier for Republicans: Voting rights. The Kentucky senator is introducing this week a bill that restores voting rights to nonviolent felons in federal elections. Paul is also pursuing drug sentencing reform in the Senate and is mulling efforts aimed at easing nonviolent criminals back into the job market. He even wants to redefine some drug offenses currently classified as felonies to misdemeanors. Together, the moves add up to a concerted effort to get minorities, young people and civil libertarians excited about Republicans — groups that much of the party admits it needs. Paul argues he's inspired by a sense of justice, but the expected 2016 contender won't deny that his criminal justice portfolio is also motivated by politics. 'I believe in these issues. But I'm a politician, and we want more votes,' he conceded in an interview. 'Even if Republicans don't get more votes, we feel like we've done the right thing.' Nearly 8 percent of the black population currently cannot vote, compared with 1.8 percent of the nonblack population,
according to The Sentencing Project
. And incarcerations for nonviolent offenses that lead to a loss of voting rights fall more heavily on African-Americans and Latinos than whites,
according to the Bureau of Justice Statistics.
" (
Politico
)
"As I write this post, I'm sitting in a café on Valencia Street in San Francisco's ever-trendy Mission District. Outside, the summer sun is shining on wide, quiet streets and beautiful clean buildings. Around me sit healthy-looking people of every race and national origin, typing away on their laptops, but friendly and eager to talk to a stranger. You could forgive me for thinking I'm sitting in a paradise. But no actually, I'm sitting in
Mordor
. San Francisco, epicenter of the tech industry, is the land from which the new hosts of evil issue forth, under clouds of swirling darkness, to conquer the realms of men. Or so you'd think, from the press Silicon Valley has been receiving lately. The hosts of Mordor include venture capitalists who trick bright young people into
throwing their lives away
on hopeless startups; sexist '
brogrammers
' who treat objects like women (or is it the other way around?); tech companies that are
raising rents
for normal folks;
plutocrats
who are going to replace us with robots and make
Thomas Piketty's
nightmare scenarios a reality; age-ist corporations who
throw away
old workers like used Kleenex;
sociopath entrepreneurs
who want to profit by
destroying the rule of law
; and neo-monarchist
wackaloons
who are plotting to destroy democracy. The
latest broadside
against the tech industry started with an article by
Jill Lepore
in the New Yorker magazine. Lepore is upset about the widespread influence of business guru
Clay Christensen's
idea of 'disruptive innovation.' Her article was immediately
interpreted
as a dagger aimed at the heart of the Silicon Valley elite.
Paul Krugman
wrote
that the cult of disruption 'lets nerdy guys come across as bold heroes.' Nerdy guys as heroes?!" (
Bloomberg
)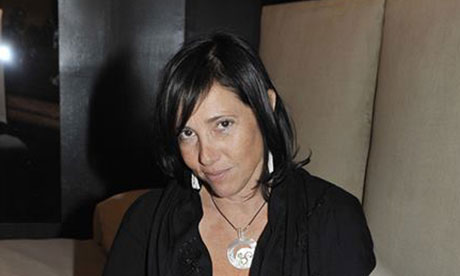 "
In the Hamptons one summer Anna and I lucked upon a spare house, don't ask! Sometimes merely by forcing our way through a hedge we found our way to parties. At these parties, invariably, Anna beguiled, while I mostly grazed at the buffet. From one such evening Anna wrangled herself a suitor. One Sunday the suitor came to pick up Anna for brunch. We watched from the living room bay window as he

...

parked his maroon car. 'Is he driving a taxi?' Anna sounded horrified. We observed him bow over the passenger seat and gather up an armload of white flowers with long dark green stems. 'What is it?' Anna begged, with urgency. 'It's an Infiniti,' I said, peering at the logo on the rear. The suitor exited his maroon car, and strode toward the house. Ignoring the ringing doorbell Anna said, 'What is an Infinity? Is it an expensive car?' 'Try not to be so superficial!' I exploded. 'What? Should I like him?' asked Anna with genuine consternation. I snorted at her and skipped off to welcome the man and his flowers. ' I'm here for Anna,' he announced, and for some reason he passed the sagging flora to me. With the flowers cradled in my arms I lolled on the front porch and I watched the suitor settle Anna into the passenger seat, carefully tucking all of her in. Anna pressed the button to lower her window and she grinned at me, and we winked at one another.I waited to wave off the improbably matched duo." (Christina Oxenberg)
"I will only interrupt my own tired rants about how much wilder and more fun New York City used to be in order to hear other people indulge in the same sort of ritualized kvetching. I feel it's imperative to support their grievances in order to keep the old-fogey genre alive. And they really outdid themselves last week at a presentation called
New York Stories/'80s-'90s Edition
. The invite itself was kvetchily irresistible: 'Remember when New York City was a wonderland of fabulous freaks and misfit toys? When there were hookers instead of the Highline and you couldn't swing a Fiorucci jumpsuit without hitting a hopped up hustler? It's still our fabulous home, but behind all the TD banks and Bugaboo baby strollers are legendary tales. Everyone has a great New York Story. Come hear some of the best.' The resulting event -- part of a series of retro bitchathons -- brought a packed house of survivors to Stonewall Inn, a place that could really tell some stories. It proved to be wonderfully bitter, varied, and rich, with lots of love for the pre-Chipotle days, though some speakers boldly suggested that the dangerous element back then made NYC less than consistently stellar. (There's mud in your rose-tinted glasses!) The host was wiry blonde comic
Nora Burns
, who remembered dancing at the legendary disco Studio 54, only to have musical oddity
Tiny Tim
pick her out of the crowd and decide that she should dance for him on his new tour. 'That tour,' she remembered, 'involved us going to three discos in strip malls in Long Island, where Tiny Tim sang and I danced behind him. Behind the scenes, he brought cans of beans with him wherever he went.' Still, the chance for a Lana-Turner-style opportunity, however small scale, seemed way more possible in old New York than today. 'Beans!' to those who disagree ... But some casualties were penalized in other ways, apparently. Wearing stylish shades,
DJ Anita Sarko
remembered a night at the Mudd Club -- the divey haven for rock hauteur in the then-wasteland of Tribeca -- when the overly festive Chrissie Hynde had to be held up by fellow rockers
Johnny Thunders
and
Cheetah Chrome
. Chrissie's publicist kept shrieking, 'Don't judge her! This isn't what she's like!' whereas Sarko remembers onlookers saying, 'We don't give a fuck about Chrissie. We're just in awe that Johnny Thunders and Cheetah Chrome are in an upright position.' Coat checker Keith Haring (at the time an up-and-coming artist) later told Sarko that, faced with a stairway, Johnny and Cheetah simply let go of Chrissie and she went tumbling down, which led to a blood curdling yell heard for miles around. Ah, the good old days." (
Michael Musto
)