Media-Whore D'Oeuvres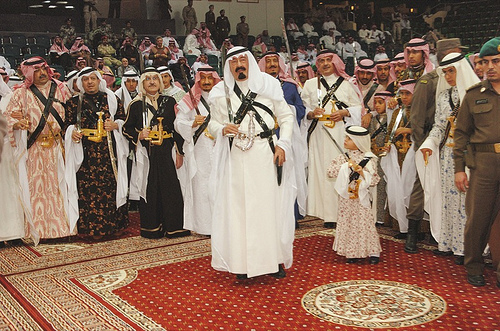 "The outbreak of the Arab Spring in 2011 brought significant attention to groups -- known as Islamists -- seeking to establish Islamic states in countries once ruled by secular autocrats. The bulk of this attention went to already established political groups such as the Egyptian Muslim Brotherhood, which caused consternation in the West when its Freedom and Justice Party won control of both Egypt's parliament and its presidency. Much less attention was paid to the Brotherhood's principal Islamist competitors, members of the ultraconservative Salafist movement, despite their second-place finish in Egypt's parliamentary elections. This changed in late September when certain Salafists played a key role in the unrest in reaction to an anti-Islamic video posted on the Internet ... Modern Salafism is based on an austere reinterpretation of Islam, calling for Muslims to return to the original teachings outlined in the Koran and the practices of the Prophet Mohammed as understood by the earliest generation, i.e., the Companions of the Prophet. From the Salafist perspective, non-Islamic thought has contaminated the message of 'true' Islam for centuries, and this excess must be jettisoned from the Islamic way of life. Salafists are a minority among the global Muslim population and even among Islamists. Unlike members of the Muslim Brotherhood, Salafists do not belong to a singular organization. Instead, the movement comprises a diffuse agglomeration of neighborhood preachers, societal groups and -- only very recently -- political parties, none of which are necessarily united in ideology. In many ways, Salafism can be seen as a rejection of the political ideology of the Muslim Brotherhood. For most of the movement's existence, it shunned politics -- and thus Islamism -- in favor of a focus on personal morality and individual piety, arguing that an Islamic state could not exist without Muslims first returning to the tenets of 'true' Islam. This means Salafism also was at odds with the concept of jihadism -- itself a violent offshoot of Salafism -- as practiced by groups such as al Qaeda that sought to use force to manifest their Islamist ideology. The Salafist movement could also afford to stay away from political activism in large part because it had a political backer in the government of Saudi Arabia. While many Salafists didn't agree with some of Riyadh's policies, its historical role as the birthplace of Salafism and role as the patron underwriting the global spread of Salafist thought kept the movement within the Saudi orbit." (
STRATFOR
)
"
Steny Hoyer
may be the most patient man in politics. When House Democrats were wiped out in 2010, losing 63 seats and their short-lived majority, many thought then-Speaker
Nancy Pelosi
would step aside, clearing the way for Hoyer to become Democratic leader after three decades in the House. That didn't happen, of course. And with Democrats poised to fall short of getting the House majority back next month, all eyes will turn to Pelosi post-election to see what's next. Nobody knows what Pelosi will do after Election Day, not even her inner circle. So Hoyer — at age 73 — must wait to see if the woman who beat him out for a leadership slot in a tough battle a decade ago will relinquish her iron hold over the Democratic Caucus. The choice is Pelosi's to make. And Hoyer would back Pelosi staying on as minority leader if she wants. Hoyer's friends and allies describe him as 'very comfortable' serving as minority whip and 'not worried about what comes next.' But if Pelosi leaves, Hoyer would be in line to become Democratic leader, the zenith of a political career that began in the 1960s. Neither Hoyer nor Pelosi, 72, will discuss what happens after Nov. 6. The recent troubles facing GOP presidential candidate
Mitt Romney
have given new life to Democrats' claim that they will win back the House, although barring a total Romney collapse, such an outcome is unlikely. Current projections have Democrats picking up anywhere between five to 10 seats, a good showing yet well short of the 25 they need." (
Politico
)
"
Elizabeth Warren's
small lead in the Massachusetts Senate race has cast a shadow over Sen.
John Kerry's
(D-Mass.) chances of becoming the next secretary of State, according to political experts in the commonwealth. Their logic: If Warren, a Democrat, wins Sen.
Scott Brown's
(R-Mass.) seat and President Obama wins reelection — and then appoints Kerry to his Cabinet — that would leave Brown the favorite to take Kerry's Senate seat in a special election.And whether or not Democrats keep their Senate majority come November, the upper chamber will be narrowly divided next year — perhaps a 50-50 split. Plus, Democratic leaders face another daunting electoral map in the 2014 election cycle, when they will have to defend 20 seats, compared to only 13 up for reelection in the GOP column. That could leave Obama unlikely to risk a safe Democratic seat to fill the job of Secretary of State
Hillary Clinton
, who has said she'll leave Foggy Bottom early next year.
Peter Ubertaccio
, chairman of the department of political science at Stonehill College in Massachusetts, said the loser of the Warren-Brown race would have a significant advantage in a special election to replace Kerry ... Kerry is widely believed to be angling to replace Clinton and is considered one of the most qualified candidates. But Kerry's office adamantly refuses to speculate on the possibility.: (
TheHill
)
"Eight years ago, in the heat of the election between
George Bush
and
John Kerry
, The New York Times ran a
Week In Review piece
, consisting entirely of quotations from some candidate (or proponent of some candidate) declaring the then-current election, 'The Most Important Election since [X],' wherein X equals some span of time. The earliest example was from the 1864 election, taken from a Times op-ed penned by Lincoln supporter Gen. James H. Lane, and from there it's a march through American history, ending with a litany of examples from 2004. The secret was out: important people frequently declare each election more important than all the other elections. In 2008,
Christopher Clausen
published an essay in The American Scholar titled, aptly, 'The Most Important Election in History,' in which he pinned down the historical context of the perennial claim. 'Has there ever been an election that some people didn't narcissistically proclaim the most important in their lifetimes? Perhaps, but such episodes are evidently so rare that they never get recorded.' ... To invoke Most Important Election [X] is now trite, trite and as transparent as it was the first time it was invoked, maybe back in 1860 and maybe before. It's a cheap sleight of hand to whip up voter interest, to swindle them into thinking something's at stake, vague enough that the voter can superimpose whatever something they'd like to be at stake. Hopefully, as George Washington ran for election in the first one, in 1788, unopposed (essentially, as at the time the runner-up was elected vice president, so other candidates were gunning for veep, plus also Washington didn't so much run as wait in Mount Vernon for the thing to be over already), he had the good sense to declare that contest as the most important election in the history of the United States, because it was the last election for which that was empirically true. There oughta be a law. Clausen's Law: the proclaimed importance of an election is directly proportional to the desperation of the speaker. But hyperbole will persist, and it will persist with players perhaps more deft than
Newt Gingrich
(statistical lock). Every election is the most important election in [X], at least to the candidates. It's a win-or-go-home game, and questions of predictive historical accuracy are not at the front of the minds of those running for office. If a harmless fib is what it takes to convince you to go out and vote, then so be it, and hopefully the candidate will escape the on-fire pants or the Pinocchios or whatever the soft guardians of fact will be using to denote fibbing in the future." (
TheAwl)
"There are a few things we've come to expect of
Riccardo Tisci's
Paris after-party. The location: L'Arc nightclub in the 16th. The sardine can VIP section, packed with fans and well-wishers.
Kanye West.
And of course, editors dancing on couches. This season,
Anna Dello Russo
and
Giovanna Battaglia
gamely took on that duty. But as Tisci celebrations go, this was a more intimate affair than in previous seasons. That's not to say it was low-key. And there was enough star power (
Erin Wasson, Lea T
, and
Sky Ferreira
, who's releasing a new music video today, were just a few of Tisci's friends in attendance) and buzz about the Givenchy collection to make up for it." (
Style)
"
Diane Keaton
has had relationships with a slew of high-profile men, including
Warren Beatty
,
Woody Allen
and
Al Pacino
. And she tells the upcoming Oct. 9 issue of Ladies' Home Journal why these romances failed. "Managerial skills are necessary to handle men like that,' she says, adding, 'I also don't think I have a lot of nurturing skills. I needed as much as they needed, and that's not a good mix.' Keaton reveals when she first saw Beatty, she thought, 'He was very sexy, but a different kind of sexy. I mean, we're talking pretty. Like
Justin Bieber
pretty.' She admits of Pacino, 'I had a crush on him for 20 years,' and states, 'I still love Woody.' As for
Jack Nicholson
, with whom she starred in 2003's 'Something's Gotta Give' but never officially dated, Keaton says, 'He's very adept at being the person you want to watch, and I think it's exhausting.'" (
PageSix
)
"Yesterday I was at
Michael's
and
Joan Rivers
was at the next table. I don't know Joan well but I've known her for a long time now, and off-stage, off-camera, she is very relatable, a highly intelligent woman whose ambition, or rather ability to work, seems to have increased with age. She looked great – which she always does. But the world knows about that. After lunch I asked her about her life 'Where do you live?' Answer: both Coasts now that Fashion Police is such a big hit. She has her palatial apartment just off Fifth Avenue in the East Sixties, on the market. I don't know the price but it's up there. I remember when she bought it, returning to the East Coast after having a longtime residence in Los Angeles. It's the top two floors of a Horace Trumbauer-designed house (one of the rare ones left in New York), built for a member of the Drexel family early in the last century. I think it had originally been the house's ballroom, and Joan's living room is an enormous paneled room that looks like it could have been a ballroom in the Gilded Age. When she bought it, she was impressed that the previous owner, a widow, had lived in it for many decades, well into her nineties when she departed. Joan liked that. She felt it meant the place had good vibes. And so it has." (
NYSocialDiary
)
"One of the dangers of working in fashion is that it's easy to become convinced that everyone in the whole world is incredibly attractive. That danger was acute at the Purple magazine dinner hosted by
Diane von Furstenberg
last night. The third and perhaps final celebration of Purple's 20th anniversary, the dinner saw such professionally attractive people as
Scarlett Johansson, Karlie Kloss, Arizona Muse, Jessica Stam
, and
Natalia Vodianova
turning up to Chez Castel to raise a toast to the magazine and its perpetually be-sunglassed editor,
Olivier Zahm
. But if the bevy of beauties left the merely very attractive remainder of guests feeling put out, there were other comforts to be had: the post-dinner dance party in the basement, a chat with DVF. She, of course, occupies that goddess zone of 'legendary beauty.' But even she's human. 'Oh, I was feeling really sick for a few days,' she said. 'It's remarkable I even made it to Paris.' Even legendary beauties have down days, thank heavens. But von Furstenberg still counts herself blessed. Asked how she came to be hosting the dinner for Purple, a magazine whose cover she graced not so long ago, von Furstenberg gave a mighty Gallic shrug. 'Like everything wonderful in my life, it just happened.'" (
Style)