Media-Whore D'Oeuvres
"Wall Street is run by multimillionaires—billionaires, sometimes—with very privileged and comfortable lives. The only thing that could conceivably threaten their well-being would be a crisis so big and so global as to make September 2008 look like a mere precursor to the main event. So you'd think that they would be doing everything in their power to minimize the chances of such a thing happening and to lock in their eye-popping gains. Instead, they seem to be happy just talking about it. 'The level of conversation about the problems is as intense now as it's ever been,' one banker told me. 'We're just midway through dealing with something that's very serious indeed: We've all learned a lesson.' But it's not much of a lesson. After the barely averted apocalypse, Wall Street is left more concentrated than ever and poses a greater systemic risk than before. The demise of Bear and Lehman and Merrill, it turns out, just made Wall Street less competitive and more profitable. Even at the height of the crisis, in late 2008 and early 2009, there were few apologies; there was no remorse. Today the critical ­voices are ­quieter; laissez-faire Republicans are generally ascendant; and
Alan Greenspan
, of all people, is leading the troops from the
FT op-ed page
, declaring that the global financial crisis was little more than a 'notably rare exception' to the rule that free markets create stability. In reality, the global economy is so fragile that Treasury and the Fed will be powerless to save us next time around." (
Felix Salmon
)
"In July 2004, as the Iraq War spiraled out of control,
Donald Rumsfeld
ordered a staffer to draw up a 'What Did Not Happen?' memo—a list of potential bad outcomes that had been avoided—to make himself feel better. Things could be worse, right? Then they started happening. The 'What Did Not Happen?' memo—which Gawker obtained under the Freedom of Information Act, along with thousands of pages of other documents from Rumsfeld's tenure—is practically a parody of Rumsfeld's truculent blindness to his own failures. In a bid to justify the wisdom of his Iraqi misadventure, he commissioned a list of pitfalls he had avoided at the very moment that they were happening all around him. In 2009, Rumsfeld asked the Defense Department for a declassified copy of that memo, along with thousands of pages of other records from his tenure, to help prepare for his memoir. In a bid to appear transparent and open and willing to back up his memories with evidence, Rumsfeld has posted thousands of those documents to his online 'Rumsfeld Papers.' And to his credit, he has posted some documents that
don't reflect well on him
. But he's also kept hundred of documents secret, and we used the FOIA to find them—we got everything that the Pentagon handed over to Rumsfeld ..." (
Gawker
)
"It was with great delight and a sense of kinship that we at
Vanity Fair
read
Donald Trump's
letter to the editor
of The New York Times. Writing in response to
Gail Collins's
April 2 column, '
Donald Trump Gets Weirder
,' the petty casino fauxgul and insincere 2012 presidential contender took a few grammatically daring swipes at the columnist ('Her storytelling ability and word usage [coming from me, who has written many best-sellers] is not at a very high level') and repeated his latest cri de coeur, Birtherism. We, too, are recent beneficiaries of Trump's editorial suggestions. On March 24, Vanity Fair editor
Graydon Carter
received a packet of documents from Trump containing a print-out of a VF Daily blog post from the week prior (shown below), several articles from blogs and newspapers concerning the ratings of Celebrity Apprentice and Trump's presidential aspirations, and a debossed 'DONALD J. TRUMP' note card of surprisingly thin paper stock." (
Vanity Fair
)
"After a year of ugly court hearings and accusations of infidelity, unfit parenting and drug use, an Indian blanket helped
Stephanie Seymour
and
Peter Brant
call off their messy divorce proceedings. Seymour tells
Town & Country's
May issue that the blanket, a sentimental memento that she returned to Brant during their divorce battle, made her realize how out of control the war had gotten and helped the two reconcile. 'The
dirty fight
is all about winning, not healing,' Seymour said. 'It's fueled by people you're paying. It is the lawyers talking and not you . . . ' When she called a truce with publishing magnate Brant, she returned a Navajo blanket that he'd loved to him. 'Let's get rid of all of these people,' Seymour recalls saying. 'I have more confidence in you, and I would hope that deep down you would have more confidence in me, that we can work this out.' Since the reconciliation, Seymour says she and Brant still live in separate homes and are in counseling. 'Of course we're in therapy,' she said. 'And then I have my own therapist, and the kids have theirs, and there is nothing wrong with this.'" (
PageSix
)
"
Alec Baldwin
has committed to star in
Woody Allen's
next film. And where will the quintessential New York actor and Gotham's arguably most famous director be filming? Try Rome. Allen has chosen that city as the site of his next comedy as he continues sampling countries around the globe after shooting most of his films exclusively in New York. Allen has said that shooting in NYC is just too expensive, but I'd argue that the change of scenery has creatively revived him in recent outings. Baldwin will work with Allen for the first time since the 1990 comedy Alice. Allen has just begun putting this film together, and word is that The Social Network's
Jesse Eisenberg
is also in line for a lead." (
Deadline
)
"The Art Production Fund was honoring
John Demsey
, Group President, the Estee Lauder Companies and Chairman of the M-A-C AIDS Fund. He was being honored for his philanthropic endeavors in support of the arts. Mr. Demsey is a very popular man about town, highly respected for his professionalism and for his natural generosity, aside from what he does for the Art World. Also being honored was
Clarissa Dalrymple
for her Commitment to the Arts ...
Amy Sacco
emceed the evening.
Ryan McNamara, Tim Fain, Donna D'Cruz
were performing, and
Will Cotton
and Chef
David Burke
were providing the menu. There was so much food presented just for the cocktail hour that I thought that was the dinner.
Yvonne Force Villareal
, the Art Production Fund's co-founder was there of course, with her co-founder,
Doreen Remen
.." (
NYSocialDiary
)
"The standoff in the Ivory Coast ended April 11 with President-elect
Alassane Ouattara's
troops arresting his opponent, incumbent president
Laurent Gbagbo
, in his compound and carrying him to Ouattara's headquarters at the Golf Hotel. Above, Gbagbo and his wife
Simone
sit on a bed at the Golf Hotel in Abidjan after their arrest on April 11." (
ForeignPolicy
)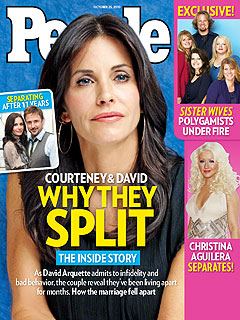 "Howard had the guys bring in
David Arquette
. David had just flown in on the Red Eye.
Howard (Stern)
had David sit at Artie's mic. David told Howard he's looking younger every time he comes in. Howard asked how much weight he lost. David said he's not sure but he lost the 'booze bloat' ...
Robin (Quivers)
said that David had to go to
Oprah
like show business people do. David said she's an amazing person and she gave him a pass so it was all good. Howard said it was a good move to go on that show. Howard said that he showed he's not the one cheating. Howard said ( wife
Courteney Cox
) is the one cheating. David said that's just not true. David said he tried to fuck her but it didn't happen. He said he knows he shouldn't have said that. He said that happened down at Disney. Howard said he must have figured he could seal the deal there. He asked how far he got with her. He said he got to kiss her a little bit. Howard asked if she was like 'Ew, gross.' David said it felt like they were in 8th grade again." (
Marksfriggin
)
"There was one striking thing missing from the events in the Middle East in past months: Israel. While certainly mentioned and condemned, none of the demonstrations centered on the issue of Israel. Israel was a side issue for the demonstrators, with the focus being on replacing unpopular rulers. This is odd. Since even before the creation of the state of Israel, anti-Zionism has been a driving force among the Arab public, perhaps more than it has been with Arab governments. While a few have been willing to develop open diplomatic relations with Israel, many more have maintained informal relations: Numerous Arab governments have been willing to maintain covert relations with Israel, with extensive cooperation on intelligence and related matters. They have been unwilling to incur the displeasure of the Arab masses through open cooperation, however. That makes it all the more strange that the Arab opposition movements — from Libya to Bahrain — have not made overt and covert cooperation with Israel a central issue, if for no other reason than to mobilize the Arab masses. Let me emphasize that Israel was frequently an issue, but not the central one. (
STRATFOR
)
"
Mitt Romney
tries so hard. And he's so damned earnest. But among his long list of impressive credentials, I don't think president is going to ever make the résumé. By all conventional standards, Romney should be running away with the Republican nomination. A solid executive-government experience outside of Washington (a plus these days). Highly successful businessman in the private sector. Solid family man with strong religious background. Personal wealth. Leading man handsome.
Prodigious fundraiser
. Been-through-this-before drill. Knows the ropes. Plus, there is a historic GOP tradition of handing the nomination baton to the guy who's been standing second in line (e.g.
Ronald Reagan, George H.W. Bush, John McCain
). So, why is it that with the announcement of his exploratory committee today there seemed to be a huge collective yawn? And the refrain from most people, including me, 'What, I thought he announced his exploratory committee a year ago.' Mitt Romney is damned by timing and circumstance. Let us ponder some of Romney's problems ..." (
Mark McKinnon
)