Media-Whore D'Oeuvres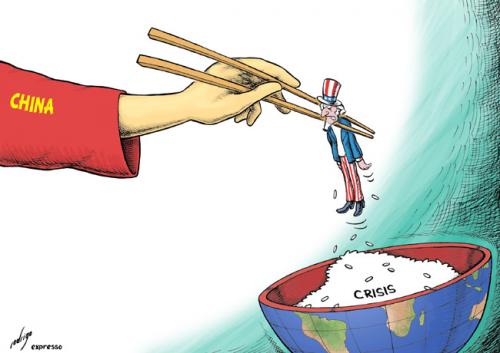 "For unsurprising reasons, the people's uprising in Egypt has been widely cast as an epochal event for Arab political culture, and somewhat more widely, for the entire Middle East. To limit our understanding of these events in this way, however, is to lose sight of a story playing out against an immensely larger backdrop. The putative and much discussed decline of the United States in recent years has been cast against the perceived successes, or at least the argued attractiveness, of an authoritarian other.In books like
When China Rules the World: The End of the Western World and the Birth of a New Global Order
, by
Martin Jacques
;
The Beijing Consensus: How China's Authoritarian Model Will Dominate the Twenty-First Century
, by
Stephen Halper
;
The End of the Free Market: Who Wins the War between States and Corporations
, by
Ian Bremmer
; and in many other recent writings, we have been warned of an almost unfair unfolding contest between the world's messy and often paralyzed democracies, and a rising cohort of efficient, businesslike authoritarian states. They portray those states steadily accounting for more and more of the global GDP, and at the same time convincingly delivering the goods to their peoples: gleaming new airports, high-speed rail systems, seamless new highways, and dependable and often free wireless internet, to name just a few of the typical benefits. Citizens, in turn, happily go about the business of pursuing prosperity and leave the business of government to the mandarin classes to whom such rights and privileges properly belong. Such is, or so we are given to understand, the nature of a winning social contract. At the apex of this phenomenon, its leading edge in power of example and in power outright, supposedly sits China." (
TheAtlantic
)
"(Donald) Rumsfeld
arrives bang on time and greets me with a disconcertingly warm smile. He is dressed formally in a grey suit, pale blue shirt and striped tie. He sits down and swiftly asks me a question: "Have you read the book? What was your reaction?' I say that I have read most of the book on the flight over from London and that I had enjoyed it – particularly the early chapters about his life growing up in suburban Chicago and his memories of selling newspapers, carrying the news of the bombing of Pearl Harbor. Rumsfeld laughs with apparent pleasure – and points out that, at the age of 78, he has been alive for a third of the entire history of the United States. 'You multiply my age three times and it takes you back to 1776 ... Isn't it amazing. It's a third of American history.' For 54 of those years he has been married to his wife
Joyce
and the couple have three children ... When I invite him to discuss the fairly damning remarks in his book about former colleagues, such as
Condoleezza Rice
, whom he criticises for avoiding tough choices as head of the National Security Council, Rumsfeld's instinct seems to be to back off. He tells me that Rice is a 'smart and able woman, let there be no doubt. A very accomplished person and a good person.' Some antagonisms, however, are too open to disguise.
Senator John McCain
, the Republican candidate in the last presidential election, became one of the foremost critics of Rumsfeld's approach to the Iraq war. He is criticised in the book for having a 'hair-trigger temper and a propensity to fashion and shift his positions to appeal to the media'. McCain's reaction to these jibes has been to renew his criticisms of Rumsfeld and to remark: 'Thank God he was removed of his duties.' I quote this back at Rumsfeld, who responds with a chilly smile: 'That's fairly typical of him ... He was opportunistic. He spent his whole campaign attacking the Bush administration and he was not a good candidate.' So, had Rumsfeld, the life-long Republican, actually voted for McCain? He frowns: 'I did. It was not a happy choice.' (
FT
)
"
The Daily:
I'm assuming you had internet TV in mind when you began this redesign? I read on Gizmodo that it's the future!
Nick Denton:
Put it this way: The distinctions between a cable TV network and us will disappear over the next five years.
The Daily:
And your costs are a hundredth of theirs.
Nick Denton:
Of course, they'll still have a lot of things going for them. They have loads of original content. Most of what we run is curated.
The Daily:
How long did this redesign take you?
Nick Denton:
Fifteen months. It's certainly our most substantial so far. It makes all the other ones look sort of petty in comparison. [pulls up old Gawker home page] I mean, look at this! It's just embarrassing."
The Daily:
As the rest of the Web gets junkier and junkier, why continue to give your content away for free?
Nick Denton
: Because we can make good money through advertising." (
TheDaily
)
"'It's radically improbable and the most practically impossible thing you could imagine,' said
Andre Walker
, referring to
Tiwimuta
, a publication he refers to as an object-zine, as he hauled a new copy from his rucksack. 'I did it in ignorance, the way I do everything,' he added. "I never really know what's going on." ... Mr. Walker then went to Paris to work with the designer
Patrick Kelly
, another early AIDS casualty; formed his own label; made clothes whose padding and flanged hemlines put some in mind of the design genius
Charles James
and others of the mermaids at Weeki Wachee; and become a center of a small downtown design cult and a
Paper
magazine darling and a hired gun for other designers, like
Kim Jones
, who seem to be intrigued by his near-telepathic ability to read the spirit of the moment. Most prominently, he worked as a consultant to
Marc Jacobs
for a decade until Mr. Jacobs abruptly cashiered him by text message a year ago. 'We're still good friends, though,' Mr. Walker said. 'What can you do?' You can start a magazine, of course, although you have no publishing experience. You can give it a nearly unpronounceable title formed from an acronym (This Is What It Made Us Think About) and sell it at Barneys New York, Rizzoli and Dashwood Books on Bond Street and at Colette in Paris in costly limited editions — the first number was $375; the second, which comes out this week, costs $195 — and produce it yourself in the vast Victorian house where you were raised in Ditmas Park, Brooklyn, and where your parents, Jamaican immigrants and ordained ministers, operate a beauty shop in the basement." (
NYTimes
)
"
Vladimir Restoin-Roitfeld
and business partner
Andy Valmorbida
once again bridged the gap between art and fashion at last night's opening for Los Angeles street artist RETNA's Hallelujah world tour, drawing a sea of socialites, downtown types and general pretty people. Notables including
Bryanboy
,
Stavros Niarchos
,
Jamie Johnson
,
Irina Lazareanu
,
Olivier Zahm
and
Nur Khan
and the impeccably chic
Carine Restoin-Roitfeld
flocked to the warehouse-style gallery housed in the former Bloomberg building on Washington Street to see RETNA's newest project, a series of black and white paintings inspired by global typography as well as a monumental sculpture installation dealing with similar themes. The works featured influences ranging from Old English graffiti to east Asian calligraphy and even Incan and Egyptian hieroglyphics, and the show, curated by fellow Californian and founder of the popular lifestyle brand RVCA PM Tenore, undoubtedly blurs the increasingly obscured lines between street culture and high art." (
Papermag
)
"On Thursday night, at the start of Fashion Week, several hundred people came to the David Zwirner Gallery to see an exhibition of
Philip-Lorca diCorcia's
photographs. Originally published in W magazine, between 1997 and 2008, the images are a remarkable record of a free-spirited period in publishing that seemed to come to an end with the recession and, as well, the Internet. They speak directly to the eye of Mr. diCorcia, with their capacity to excite and disturb, and to seek truth about human behavior in the most banal of scenes. These photographs were also the result of a fortuitous collaboration between Mr. diCorcia and
Dennis Freedman
, the former art director of W, who gave the artist carte blanche to shoot fashion stories in places like Havana, Cairo and New York. They have collected all 11 shoots in a new book, 'Eleven' (Damiani Editions). " (
Cathy Horyn
)
"In New York sightings of celebrities are commonplace but sightings of a genuine royal are rare. At last night's Retna opening while everyone was staring at
Lily Donaldson
and
Amanda Hearst
, a member of Monaco's royal family slipped in so subtly that no one in the crowd noticed or seemed to care. No one even stopped her to take her photograph. Yes,
Charlotte Casiraghi
of Monaco's royal family had graced us with her presence. Miss Casiraghi who has an exquisitely pretty face with enormous bee-stung lips, was dressed in a requisite cool black outfit, and said she enjoyed the show. Was she in town for fashion week? 'No, I'm here to see friends,' she said before moving away like goldfish trying to escape the net." (
Observer
)